Environment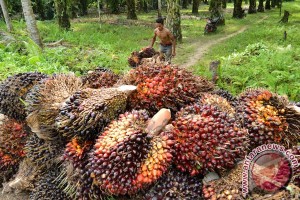 25th April 2017
A total of 527 palm oil companies are currently applying for an Indonesian Sustainable Palm Oil (ISPO) certificate in 2017 to improve the competitiveness of Indonesian products in the international market. ISPO Auditor Head ...
Other Latest News
Mangroves can help develop ecotourism: Minister

23rd April 2017

Environment and Forestry Minister Siti Nurbaya Bakar stated that mangrove planting, aimed at preventing soil erosion, can also serve as a means to develop ecotourism. "We highly support the development of ecotourism, ...

EARTH WIRE -- Crowds gather to witness Rafflesia flowers bloom

21st April 2017

Crowds gathered to witness the 15 endemic Rafflesia arnoldii flowers blooming, by opening their six petals completely, at the Bukit Barisan conservation forest in Bengkulu Province, Gilang Ibnu, an environmentalist said here on ...

Academicians call for review of regulation on peat lands

18th April 2017

Academicians from the Peat Plantation and Village Research Center of the Riau University Dr Zaimi called for the review of the Government Regulation No. 57 of 2016 on Peat Ecosystem Protection and Management. "All agree ...

Singapore lauds Indonesia`s efforts in handling forest fires

7th April 2017

Countries in the Association of Southeast Asian Nations (ASEAN) are contributing to achieving a smoke-free zone by 2020, and Indonesia has taken countermeasures to handle land and forest fires in several hotspots during 2016. ...

Military forces secure Tesso Nilo National Park

28th March 2017

Joint army personnel from the 04/Pangkalan Kuras district military command in Pelalawan, Sumatras province of Riau, are conducting joint operations in an effort to secure Tesso Nilo National Park. "The joint patrols, ...