Environment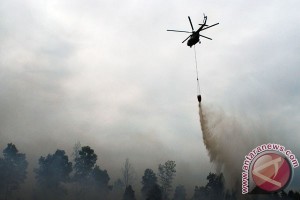 7 hours ago
Two additional helicopters are needed in Riau Province, Sumatra Island, to anticipate the annual land and forest fires, Riaus Forest and Land Emergency Alert Task Force Commander Brig. Gen. Nurendi stated. "We have, so far, ...
Other Latest News
Task force of forest fire prevention extinguishes land fires

17th February 2017

A task force of forest fire prevention workers in Riau province has managed to extinguish the land fires which devoured 20 hectares of dry peatlands in Pangkalan Terap village, Kerumutan sub-district, Pelalawan district. ...

Sumatra elephants` habitat continues to shrink: NGO

17th February 2017

The habitat of Sumatra elephants (Elephas Maximus Sumatranus), which continues to shrink, has sparked more conflict between the endangered species and humans, an NGO working in the field of nature conservation has said. ...

Bali fishermen release seven blacktip sharks

15th February 2017

Fishermen in Gilimanuk village of Jembrana disrict, Bali, has released seven blacktip sharks to the open sea, after they were trapped in fishermens nets. "The sharks were accidentally trapped by fishermen, and we took care ...

Police foil attempt to smuggle pangolins to Malaysia

13th February 2017

Police in Bengkalis district of Riau province have foiled an attempt to smuggle 89 pangolins to Malaysia. "The pangolins were smuggled from South Sumatra by the four suspects," Bengkalis police chief Adjunct Senior ...