Environment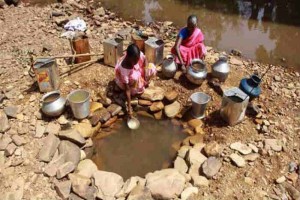 16 hours ago
At least 76 million people in India do not have access to clean water, a report published by international charity and advocacy group on clean water -- WaterAid says. Of the 76 million people, 63 million are living in rural ...
Other Latest News
Government to improve protection of four endangered animals

20th March 2017

The conservation agency of North Sulawesi and Gorontalo Provinces will improve the protection of four endangered animals, including the Anoa, hogdeer, Yaki, and Maleo, head of the body, Agustinus Rante Lembang, said here on ...

Govt to reactivate reforestation campaign: VP

20th March 2017

Vice President Jusuf Kalla has stressed the need to reactivate national reforestation campaign to rehabilitate the damaged environment. "In the past, we have Gerhan campaign, the national campaign of land reforestation, now ...

Batam govt to clean up garbage in Tanjungriau waters

18th March 2017

The government of Riau Islands provincial city of Batam will deploy at least 600 residents and waste workers to clean up garbage scattered in the waters around Tanjungriau in commemoration of National Waste Care Day. Head ...

Climate anomaly threatens Indonesia`s biodiversity

17th March 2017

La Nina, which is a series of El-Nino Southern Oscillation (ENSO), could be a threat to the preservation of Indonesias biodiversity, Dean of the Biology Faculty, Gadjah Mada University in Yogyakarta, Budi Setiadi Daryono, ...

Parties call for penal action in Raja Ampat reef case

16th March 2017

Some parties have highlighted the need to take penal action against those found guilty of inflicting damage to Raja Ampats reefs, West Papua, several days ago, due to the MV Caledonian Sky cruise ship incident. "Penal ...

Government forms team to handle coral damage in Raja Ampat

15th March 2017

The central government has formed an integrated team to handle the coral damage in Raja Ampat District, West Papua Province, according to Raja Ampat Tourism Office Chief Yusdi Lamatenggo. According to Lamatenggo, the coral ...