Feature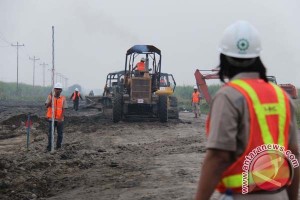 28th March 2015
The government plans to speed up the construction of the Trans-Sumatra toll road, which is expected to boost integration and connectivity. Divided into 23 sections, the 2,700-kilometer (km) toll road will extend from ...
Other Latest News
Water Resource Management To Be Under State Ccontrol

1 hour ago

- Two important court rulings were issued in Indonesia earlier this year that established water accessibility as a basic right of the public, rather than giving water the status of a business commodity. In mid February, ...

advices and warnings over falling value of rupiah

26th March 2015

Business leaders began to express frustration of the shrinking value of rupiah with sign that the worst is yet to come if the Fed decides to go ahead with its plan to raise its fund rate this year. The national currency is ...

Indonesia, Iran strengthen media interaction

26th March 2015

Indonesia and the Islamic Republic of Iran are making every effort to enhance the interaction of media as part of cultural cooperation between the two countries. The Iranian Embassy in Jakarta on behalf of the Ministry of ...

Indonesia can achieve rice self-sufficiency this year

22nd March 2015

The government has predicted that Indonesia will achieve its rice self-sufficiency target this year, much earlier than President Joko Widodo (Jokowi)s former goal of reaching this milestone in the next three years. "We are ...

Arema wins Bali Island cup

21st March 2015

- The Arema Cronus Football Club from East Java province emerged as the champion of the Bali Island Cup (BIC) after crushing Persiram Raja Ampat of Papua province 2-0. Arema beat Persiram 2-0 in a match held at the Kapten ...

ISIS not synonymous with Islam

20th March 2015

The Islamic State of Iraq and Syria (ISIS) is purely a political movement that uses the terminologies and symbols of Islam to expand its power and network, but it is not synonymous with Islam whatsoever. Chairman of the ...

Indonesia Gears Up For Bali and Beyond Travel Fair 2015

18th March 2015

- Indonesia is set to hold the Bali & Beyond Travel Fair (BBTF) in Nusa Dua, Bali, from June 10 to 14 this year to introduce the countrys tourism to the world. The BBTF 2015, which is being organized for the second time ...

Inquiry sought after minister`s decision on Golkar

15th March 2015

The internal conflict of the Golkar Party protracted after its tribunal did not take a decision on the legitimate of one of the partys dual leaderships. The Golkar Party splintered into two camps last December, between ...

PLN should focus on power transmission and distribution

13th March 2015

The state electricity company PT PLN is expected to focus on managing the transmission and distribution of electricity to the public. As the second-largest state company by assets, PLN holds a monopoly on the distribution ...