International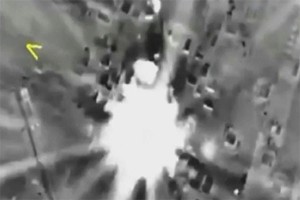 6th October 2015
Russian Defense Ministry on Monday blamed bad weather conditions for the brief violation of Turkish airspace by a Russian aircraft near Syrian border. "The incident was a consequence of unfavorable weather conditions in the ...
Other Latest News
Typhoon mujigae kills 19 in South China

5 hours ago

Typhoon Mujigae has claimed 19 lives and left four people missing since it landed in south Chinas Guangdong Province Sunday, the local government said Tuesday. Seven people have died in typhoon-triggered tornados in ...

Nobel medicine prize awarded for work on parasitic diseases

5th October 2015

William Campbell, Satoshi Omura and Youyou Tu jointly won the 2015 Nobel Prize for medicine for their work against parasitic diseases, the award-giving body said on Monday. Irish-born Campbell and Japanese Omura won half ...

Death toll in Afghan hospital bombing rises to 19

4th October 2015

The death toll by a US airstrike at a hospital run by a medical aid group in Afghanistans northern Kunduz city has raised to 19 with 37 people injured, MSF said on Saturday. At early hours of Saturday, the air raid struck ...

Pengungsi ganggu layanan kereta Euro Tunnel

3rd October 2015

Sekira 200 pengungsi menyerbu masuk ke terowongan bawah laut yang menghubungkan Inggris dan Prancis (Euro Channel Tunnel) dari sisi Prancis, sehingga bentrok dengan pegawai kereta dan polisi yang mengakibatkan layanan ...

indonesia should mediate Palestinian factions: Expert

2nd October 2015

International law expert of Indonesia University Prof Hikmahanto Juwana said Indonesia should mediate internal conflicts between Palestinian factions Fatah and Hammas, following the Palestine flag hoisting ceremony at the United ...

Palestine can take a cue from Indonesia: Senator

2nd October 2015

Palestine can take a cue from Indonesia that diplomacy cannot be separated from the struggle to achieve freedom, according to Sukamta, a member of Commission I of the Indonesian House of Representatives (DPR). "Conducting ...

Gorbachev says health improving, can walk again

2nd October 2015

The Soviet Unions last leader Mikhail Gorbachev, who has been battling diabetes, said Friday his health is improving and that he can walk again with the help of a stick. "I feel much better. I can walk again, with a stick ...