International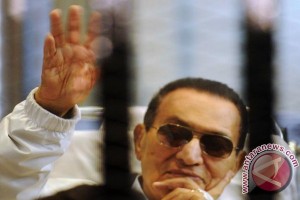 24th March 2017
Egypts ousted president Hosni Mubarak walked free on Friday for the first time in six years, his lawyer said. He left the Maadi Military Hospital where he had been detained at 08:00 local time, heading to his home in ...
Other Latest News
Indonesia encourages fair regulation in outer space

6 hours ago

The Indonesian government encourages a fair regulation in the outer space, which is intended to maintain peace, a representative of countrys Embassy to Austria in Vienna, Febrian A. Ruddyard, told Antara here on Tuesday. ...

Philippines rescues 3 Malaysians held hostage by Abu Sayyaf

27th March 2017

Philippine troops have rescued three Malaysians held captive by Abu Sayyaf rebels, the military said on Monday, the second such operation in four days as security forces step up offensives against the notorious Islamist ...

One killed, 4 wounded in explosion in Cairo

24th March 2017

One person was killed and four others wounded on Friday when an explosive device went off in a garden in Maadi district southeastern the capital Cairo, the interior ministry said in a statement. The blast occurred when a ...

UK PM May has visited victims of London attack in hospital

24th March 2017

British Prime Minister Theresa May has visited a hospital where she spoke to victims of Wednesdays (March 22) attack near parliament as well as hospital staff, her spokesman said. About 40 people were injured in the ...

Air strike on mosque near Alepo in Syria kills 42

17th March 2017

Warplanes struck a mosque in the rebel-held village of al-Jina, southwest of Atarib near Aleppo in Syria, killing at least 42 people and wounding dozens, the Syrian Observatory for Human Rights, a Britain-based war monitor, said ...