National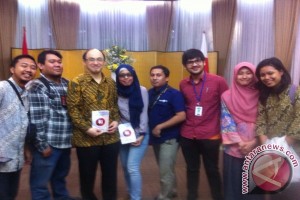 6 hours ago
The Japanese Embassy's former deputy chief of mission to Indonesia, Yusuke Shindo, has written a book titled, "Mengenal Jepang" or "Knowing Japan" to enhance relations between Indonesia and Japan. Through an email ...
Other Latest News
Indonesia, China agree to establish educational cooperation

28th May 2015

Indonesia and China have agreed to establish cooperation in the educational, social and cultural fields as part of efforts to enhance bilateral relations. "Bilateral relations between Indonesia and China in the political, ...

Widjojanto files another pretrial suit

28th May 2015

Suspended deputy chief of the Corruption Eradication Commission (KPK) Bambang Widjojanto has filed another pretrial suit at the South Jakarta district court. "We filed it at the South Jakarta District Court this morning," ...

Govt concludes no plastic rice in circulation: Police

27th May 2015

The government has come to the conclusion that there is no synthetic rice containing plastic substances in circulation and has asked people to remain calm. "We concluded that there is no plastic rice, so people are urged to ...

TNI seizes three rifles in Aceh

27th May 2015

The Indonesian military (TNI) in the westernmost Indonesian province of Aceh has seized three rifles and thousands of rounds of ammunition believed to be those of armed criminal group Din Minimi. TNI personnel seized the ...

Indonesia to be categorized developed country in 2030

27th May 2015

Rector of Yogyakarta-based Gadjah Mada University (UGM) Dwikorita Karnawati has predicted that Indonesia will begin entering as a developed country category in 2030. "If its in stable condition, Indonesias economic ...