National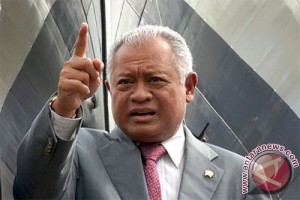 6 hours ago
The Indonesian Defense Minister Purnomo Yusgiantoro stated that the government has been supporting the national defense industry to become self-sufficient through several programs that have been initiated since 2010. The ...
Other Latest News
Police arrest prosecutor on charge of drug trafficking

9 hours ago

The district police of Samarinda, East Kalimantan, arrested a prosecutor in the regency of Kutai Kartanegara, on charge of drug trafficking.Head of the anti drug unit of the district police Comr Bambang Budiyanto said on ...

Indonesia to be honorary guest of book fair in Frankfurt

9 hours ago

Indonesia will be the guest of honor at the Frankfurt Book Fair on October 14-18, 2015, in Germany after Finland, which was the guest of honor in 2014.Head of Collection and Information Services Division, the National Library, ...

Anti-graft body questions security minister

11 hours ago

The Corruption Eradication Commission (KPK) on Tuesday questioned Coordinating Minister for Political, Legal and Security Djoko Suyanto in connection with an alleged corruption case. "I am going to be questioned by the KPK ...

Jokowi to eliminate most of vice-ministerial posts

15th September 2014

President-elect Joko Widodo, better known as Jokowi, will eliminate most of vice-ministerial posts established during the United Indonesia Cabinet II, according to Andi Widjajanto, deputy chairman of the transition team of ...

Nine Indonesians trapped in flood-hit Srinagar, India

15th September 2014

The Indonesian Embassy in New Delhi has managed to establish contact with the nine Indonesian citizens stuck in the floods that have ravaged Takht-e-Sulaeman, Srinagar, India, stated an Non-Governmental Organization (NGO). ...

Foreign terror suspects used fake passports

15th September 2014

Four foreign terror suspects, who have been detained for illegal entry into Indonesia through Central Sulawesi, had used fake passports, according to a spokesman of the Indonesian Police. "We suspect that they have used ...