Indonesia, France build partnership on developing technical, vocational training
11th August 2017 | 2.247 Views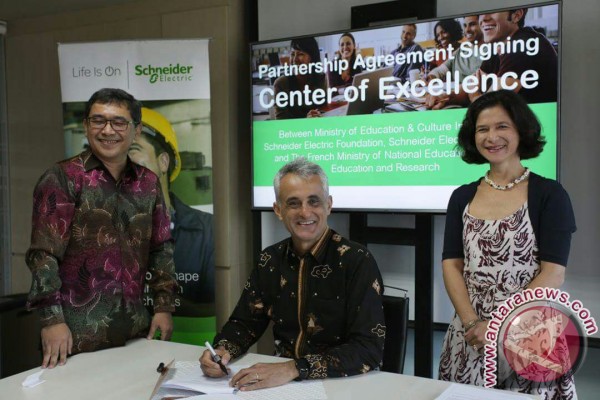 Jakarta (ANTARA News) - The government of Indonesia and France have officially concluded a ground-breaking partnership to strengthen and develop technical as well as vocational training in the fields of energy, renewable energies and electricity.
The partnership relies on the cooperation between the French and Indonesian ministries of education, and on the Schneider Foundation, including Schneider Electric Indonesia, that was signed on 11 August, according to a press release of French Institute in Indonesia (IFI) received by Antara here on Friday.
The cooperation was signed by the CEO, Xavier Denoly, along with the General Secretary Directorate of Vocational School (PSMK) of the Indonesian Ministry of Education and Culture, Sidik Suhadi and the Director for European and International Cooperation of French Ministry of National Education, Marianne de Brunhoff.

This partnership is built on the initiative for education in the office of the Embassy of France/French Institute in Indonesia (IFI).

The agreement will lead to the creation of a center of excellence with state-of-the-art equipment for the training of vocational high school trainers, according to international industry norms.

"The center of excellence is dedicated to upgrading the Indonesian curriculum in energy, renewable energy and automated systems for the 21st century," the Education Cooperation Attache at Embassy of France Education in Jakarta, Emilienne Baneth-Nouailhetas, said.

The center will not only be presented as a hub for updating curriculum, transferring technology and training trainers for the whole country, but also train students on the high standard competencies necessary for the labor market.

A scaling program planned over the next five years will lead up to 184 vocational high schools being upgraded across Indonesia.

The center will be located on the premises of the Centre for the Development and Empowerment of Educators and Educational Personnel (P4TK) in Bandung.

The center will be led by a governing board comprising the representatives of the Directorate of Vocational Training (PSMK) and Directorate of the Development for Teachers and Trainers (GTK), P4TK and one French expert, who will be appointed and funded by the French Ministry of Education for six years.

(Y013/KR-BSR/A014/B019)