Leopard detected in conservation forests in East Java
4th February 2014 | 4.365 Views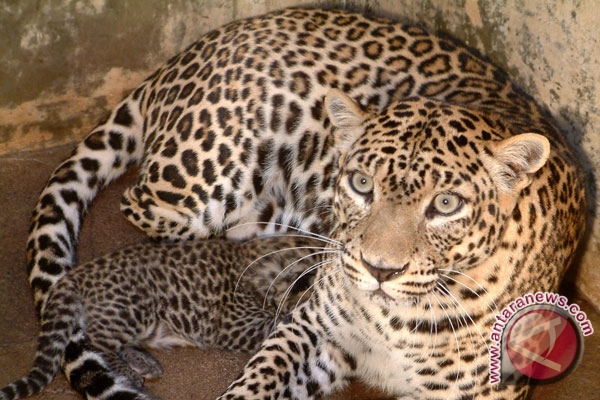 Tulungagung, E Java (ANTARA News) - The East Java chapter of the Natural Resources Conservation Agency (BKSDA) has detected Javanese leopards (
Panthera Pardus Melas
) in four conservation forests in the region, stated its head, Hartoyo.
He released the statement here on Tuesday, in response to a declaration on saving the endangered Javanese leopard issued at a Javanese leopard conservation conference in Bogor, West Java, on January 29-30, 2014.
"So far, we have come to know about it, based on the reports indicating the existence of the wild animal and also from some eye witnesses," he remarked during a telephonic conversation, when asked to give confirmation about the existence of the Javanese leopard.
He admitted that the existence of the Javanese leopard was not properly documented as it is not included as species whose protection must be prioritized based on the ministerial regulation.
The Javanese bull (Bos Javanicus), Javanese eagle (Nisaetus Bartelsi), and cockatoo (cacatua galerita) have been identified by the ministry as three rare species and their monitoring has been prioritized.
The Javanese leopard is not included in the BKSDAs monitoring priority list as it is not included in the list of protected animals, although its existence in the forests is almost extinct.
"We are awaiting a legal decision to declare the Javanese leopard as a protected animal before we can make any protection plans," he emphasized.
He explained that the existence of the big cat has been threatened by the loss of habitat due to deforestation as well as conflict with humans and diseases.
In the past five years, the Javanese leopard has been spotted in the Ijen (Bondowoso), Sempu (Malang), Sigoho, and Picis (Ponorogo) forests, he claimed.
However, their existence had yet to be confirmed based on the research and scientific monitoring data, he added.
"Now, confirmation of its existence is based on an ocular analysis and general information obtained from the witnesses. There has been no direct contact between the BKSDA officials and the animal, except in Ijen, some time ago," he stated.
Leopard observer Hendra Gunawan pointed out that the Javanese leopard is the only big cat that still exists in Java after the Javanese tiger (panthera tigris sondaica) was declared extinct in the 1980s.
"Thus, unless serious efforts are made to protect the leopard, the fate of this big cat will also follow suit," he remarked at the conference in Bogor.
The Javanese leopard has been categorized as critically endangered species and put in the list of the International Union for Conservation of Nature under the category Appendix I in CITES.
No exact data is available on the exact numbers of the Javanese leopard existing in the forests of Java.
"Since mapping was conducted four years ago, the animal was mostly found in Halimun-Salak or Pangrango Mountain (West Java)," Hendra reported.
Reporting by Slamet Agus Sudarmojo
(T.KR-SAS/H-YH/INE/S012)
EDITED BY INE