Science/Tech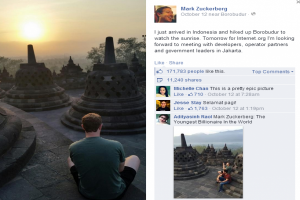 24th November 2016
Facebook CEO Mark Elliot Zuckerberg has offered Indonesia a solution to increase Internet network in remote areas using unmanned aircraft (drone) designed by Facebook to boost the growth of small and medium industries (SMI). ...
Other Latest News
First woman in space says Russians will be first on Mars

22nd November 2016

The first female cosmonaut Valentina Tereshkova (79) said she believed Russians would be the first to land on Mars and she would have been ready to go to the Red Planet herself, if it was not for her age. Tereshkova made ...

Facebook CEO offers connectivity program to Indonesia

20th November 2016

Global social media networking service provider Facebook has offered connectivity program in Indonesian remote areas. "It happened that in the meeting just now, Mark (Mark Zuckerberg, Facebook CEO) cited Indonesia as an ...

UN Chief: Some 422 m. people live with diabetes

16th November 2016

United Nations Secretary-General Ban Ki-moon in his message on World Diabetes Day, 14 Nov 2016, said some 422 million people now live with diabetes. Diabetes is a leading cause of poor eyesight and blindness worldwide. ...

Indonesian student wins int`l technology award

15th November 2016

An Indonesian student from the Gadjah Mada University in Yogyakarta, Ramadhan Chairan Maulana, has won an award at the 6th International Symposium on Technology for Sustainability 2016. "We are proposing a paper on a ...

OIC countries to join vaccine production training in Bandung

12th November 2016

As many as ten member countries of the Organization of Islamic Cooperation (OIC) are expected to join training in vaccine production here on November 16-18, an official stated. "During this vaccine production training, we ...

China boosts space programme with new heavy rocket launch

4th November 2016

China has launched its new Long March-5 heavy rocket, state media said, sending its payload into orbit in the countrys latest step in advancing its space exploration programme. The launch comes after China began its longest ...

PT Pindad launches medium-sized tanks

3rd November 2016

The Indonesia State-owned arms manufaturer PT Pindad has launched a medium-sized tank at Indo Defense 2016 Expo and Forum here. "We have issued the final design of the medium-sized tank as a new breakthrough. We can ...